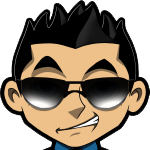 The table game Roulette X2 was launched on March 1, 2020 by Golden Rock Studios, which described this European roulette-based variant as the sole roulette with a—and it is named after its—payout-doubling free side game.
The two-game "Roulette X" series includes Roulette X5, dated January 28, 2021. Also, the developer launched Classic Roulette on July 13, 2021. Themes: classic and dice rolling.
Roulette X2 Game Characteristics
The Roulette X2's interface is set on a charcoal gray background. The thinly-lined racetrack is at top center, while the centered main grid has numbers 0 to 36. Suitable for high rollers, Roulette X2 has eleven casino chips namely lined below the grid whose values are: $0.1, $0.5, $1, $5, $10, $25, $100, $500, $1000, $5000, and $10000.
Roulette X2 has two games: a regular game and the dice side game. The regular game has two types of bets: inside/outside bets and call bets. The inside bets: straight up; split; trio (0/2/3 and 0/1/2); street; basket (0/1/2/3); and corner.
Outside bets: columns (first, second and third columns "2/1"); dozens (1st 12, 2nd 12, and 3rd 12); and even money (red or black diamond, even or odd numbers, and low 1-18 or high 19-36 numbers). The three call bets: voisins du zero; orphelins; and tiers.
Roulette X2 has huge bet limits. Straight up: $0.1 minimum and $1000.00 maximum bets. Split: $1.00 minimum and $2000.00 maximum bets. Street, or trio: $1.00 minimum and $3000.00 maximum bets. Corner, or basket: $1.00 minimum and $4000.00 maximum bets. Six-line: $1.00 minimum and $6000.00 maximum bets.
Column, or dozen: $1.00 minimum and $12000.00 maximum bets. 1-18/19-36, black/red, and even/odd: $1.00 minimum and $18000.00 maximum bets. Racetrack's limits: Voisins du zero, or tiers have $2000.00 maximum bets. Orphelins has $2000.00 maximum bet. Minimum table limit: $1.00. Some versions may accept over a $100000.00 maximum table limit.
The slate gray roulette wheel, at top left determines these Roulette X2 payouts. Straight up pays 35:1. Split pays 17:1. Street pays 11:1. Corner pays 8:1. Line pays 5:1. Column, or dozen pays 2:1. Red/black, even/odd, or 1-18/19-36 pays 1:1.
Regular wins prompt the free dice bonus game, which doubles winnings if the four self-revealing dices below the roulette wheel match. The non-progressive jackpot is X70.
The Roulette X2 software: JavaScript and HTML5 technology; desktop version and mobile ready; game statistics, with cold and hot numbers and probability; volume slider, and on/off music (lounge music and casino sounds) and sound effects (dealer's voice, chinking, rattling, jingling); fast-forward spin and turbo modes; and bet history; previous results; and numerous chip-placement at once by sliding along the grid.
Supported browsers: Safari, chrome, Firefox, Edge and Opera. It is available in 24 countries: England, Spain, Portugal, Italy, France, Hungary, Greece, Germany, Czech Republic, Thailand, Sweden, Romania, Poland, Norway, Netherlands, Brazil, Korea, Finland, Russia, Japan, El Salvador, China, Virgin Islands, and Turkey.
The animated 3D graphics: a cyan glow; the roulette wheel spins, and zooms in and out; rotating roulette ball; bouncing chip; and self-adjusting screen grab.
Luck in Roulette X2
Roulette X2 is a game of luck. RTP rates: between 97.52% and 97.74%. House edge: from 2.26% to 2.48%. Average RTP rate: 97.60%. Average house edge: 2.40%.
PlayRoulette.org » Games »
#1 Roulette Casino for Americans

4 Roulette games, Table Mania Tuesdays!