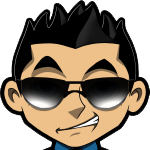 Roulette Nouveau is a May 2018 table game from Relax Gaming. This French roulette-like game's name "Nouveau" is derived from the French equivalent of novel or new.
Roulette Nouveau Game Characteristics
After Roulette Nouveau loads, players click on or off when prompted whether to play with the sound. Stacks of casino chips separate the roulette wheel and table, which are side by side on the green background. Roulette Nouveau's layout is similar across the mobile's landscape mode and desktop versions.
Nevertheless, their roulette wheels are slightly different: the desktop version has a dark brown base and silver rotor, while the mobile version has a cinnamon-colored base and golden rotor. Roulette Nouveau has eight casino chips along bottom left, which are placed by dragging and dropping them on the bet spots: $0.10, $0.50, $1, $5, $25, $100, $500, and $1K.
The lack of a racetrack and associated call bets means Roulette Nouveau players can only place its ten table bets: straight up (numbers 0-36), split bet, three-line bet, corner bet, six-line, column bet (3-36 column, 2-35 column, and 1-34 column), dozen bet (1-12, 13-24, and 25-36 rows), even/odd bet, black/red bet, and high/low bet (1-18/19-36).
Roulette Nouveau has $0.10 minimum and $5000.00 maximum table limits. The bet options have these maximum bet limits.
Straight up: $250.00.
Split bet: $500.00.
Three-line bet: $800.00.
Corner bet: $1000.00.
Six-line: $1600.00.
Column bet, or dozen bet: $3500.00.
And even/odd bet, black/red bet, and high/low bet: $5000.00. "Spin" icon is among the "clear", "undo", "double" and "rebet" icons at bottom right. After spinning, the wheel's cyan pointer pinpoints—like the table's white marker—the highlighted winning value.
The Roulette Nouveau payouts: straight up pays 35: 1; split bet pays 17:1; three-line bet pays 11:1; corner bet pays 8:1; six-line bet pays 5:1; dozen bet, or column bet pays 2:1; and odd/even, or red/black, or low/high bet pays 1:1. The three-line bet offers Roulette Nouveau's highest single win, which (8000X11) is $8800.
Roulette Nouveau is associated with the JavaScript and HTML5 technologies. The software has five features at top right: betting patterns; game history; rules; on/off sounds; and game settings.
After placing the table bets, the players can save up to five betting patterns and even assign them names. The auto play feature is only associated with—and can be customized for each of—the betting patterns, where the options are: 5, 25, 50, 75, and 100 number of plays; custom, no limits, X5, X20, or X50 loss limits; and custom, no limits, X10, X20, or X75 total win limits.
The game history includes both the drawn red and black numbers and a color-coded heat map. The on/off sounds include: rattling, chinking and jingling effects; and ambient lounge music. It lacks a dealer's voice.
Roulette Nouveau has animated 3D graphics: moving marker; freefalling won chips; and its roulette wheel spins backward or forward interchangeably, which is always in the opposite direction of the rotating roulette ball.
Luck in Roulette Nouveau
Roulette Nouveau is a game of luck. RTP rate: 97.30%. House edge: 2.70%.
PlayRoulette.org » Games »
#1 Roulette Casino for Americans

4 Roulette games, Table Mania Tuesdays!