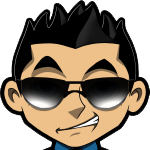 Inbet Games launched Fortuna on September 14, 2018. This ultramodern table game is third in the Fortune series, alongside: Fortune 18 (February 2017), Fortune Black (August 2017), and Fruit Fortune Wheel (2020). Inbet also launched Live Roulette in November 2018.
Fortuna Game Characteristics
The fortune-themed Fortune is set on a floral cyan background. Though based on the European roulette, Fortuna has a modernized roulette table and a wheel of fortune instead of a roulette wheel. There is a rectangular colorful roulette table at the left, a central 2D wheel with serrated inner and outer cores, and game history at the left.
The Fortuna's five casino chips are selected by repeatedly tapping the "bet" icon, revealing the $10, $50, $100, $200 and $500 bet sizes.
Fortuna lacks a racetrack, thus the absence of neighbor bets. The inside and outside bets: specific number (1-36) bet; red/black bet; odd/even bet; "zero bet"; and row bet. The table's red and black numbers 1-36 are arranged from right to left and in a descending order. The side by side zero, black, red, even, and odd spots are below the table.
Fortuna is a multiplayer game and the player can, during the betting period, see the frequency of picking all numbers among all involved players, which is represented by the numbers surrounding the wheel.
The marked blue row bets, at top right: 1st row 1-12, 2nd row 13-24, and 3rd row 25-36. The blue "random" icon lets players pick straight up numbers randomly. The bottom left as sectors alongside their maximum possible win.
These are the Fortuna maximum bets: specific number bet has $300.00. Red/black and even/odd have $5000.00. Any row bet has $3600.00. Table limit: $10.00 minimum bet; $5000.00 maximum bet.
Fortuna's has timed, self-starting sessions. Players have two minutes to place their bets—highlighted in yellow—wherein the placement window is 1:53 only as there is a 7-second lull afterwards. The playing session takes one minute. The wheel spins for about 23 seconds, after which the golden pointer above it pinpoints the winning colored number; the wheel's white core has a digital display of the winning number, which is also shown at bottom left as win type/bet/win.
During the betting session, a tongue of fire and a snowflake are displayed in the wheel's segments, this indicating the hot number and cold number, respectively.
These are the Fortuna payouts: specific number (or zero) bet pays 36:1; red/black bet, or odd/even bet pays 2:1; and row bet pays 3:1. Fortuna's theoretical maximum non-progressive win is associated with the straight up or zero bets ($300.00 maximum bet; pays 36 to 1) or row bets (3600.00 maximum bet; pays 3 to 1) whose payouts are up to $10800.00.
The Fortuna software: JavaScript technology; desktop and mobile versions; statistics for the last round history, and the general history for the last 16 games; full screen ( button); clear, undo, X2 double and re-bet icons; digital countdown timers. There is no ambient music.
Sound effects: rattling, retro beep, and wrong buzzer. There are animated 2D graphics, including: glistening, wheel of fortune spinning clockwise, number counter, and gushing confetti.
Luck in Fortuna
Fortuna is a game of chance. RTP rate: 97.30%. House edge: 2.70%.
PlayRoulette.org » Games »
#1 Roulette Casino for Americans

4 Roulette games, Table Mania Tuesdays!