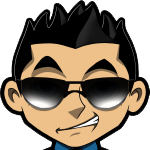 Fair Roulette Privee, an August 2017 table game, is in its developer WorldMatch's sub-series like Fair Roulette Pro (July 2018) and Fair Roulette. The developer's "Privee" gaming line also contains W Ruleta Privee (February 2020), French Roulette Privee (July 2018), and American Roulette Privee (September 2017).
Fair Roulette Privee Game Characteristics
The players must decide whether to play with or without the audio before progressing to the single zero-oriented red roulette table. Fair Roulette Privee's concave wheel, interface positioning and betting sections are different in the desktop and mobile versions.
The desktop version's slanted view has gold-lined roulette table and racetrack, encased in a glossy gray-and-silver frame; a golden-turreted wheel is near top right, beside stacked chips. Along the top, the racetrack's four bet options: serie 5/8, orph, serie 0/2/3, and zero. The table's bets: straight up, split, street, square, six-line, column bet, dozen bet, first half/second half, even/odd, and red/black bets.
The mobile version's close-up view displays a white-lined roulette table only. The looped section's P1-P4 buttons at top center represent the racetrack, wherein: P1, P2, P3 and P4 are equivalent to serie 5/8, orph, serie 0/2/3, and zero neighbor bets, respectively.
The Fair Roulette Privee's five casino chips (mobile: bottom center; desktop: bottom right): "X", $10, $20, $50 and $200.
Regular bet limits: straight up, split, street, square, and six-line bets have $10.00 minimum and $200.00 maximum bets; column, dozen, 1 to 18/19 to 36, even/odd, and red/black bets have $20.00 minimum and $400.00 maximum bets. "X" chip supplement the X-marked chips and "clear bets" icon. Special bet limits: from $30.00 to $2400. Fair Roulette Privee's table limits: $10.00 minimum bet and $7000.00 maximum bets.
The mobile version's wheel only pops up after clicking ">" at bottom right—at bottom center in desktop versions.
The Fair Roulette Privee payouts: Straight up pays 35:1. Split bet pays 17:1. Street bet pays 11:1. Square bet pays 8:1. Six-line bet pays 5:1. Column bet, or dozen bet pays 2:1. Black/red bet, or even/odd bet, or 1 to 18/19 to 36 bets pay 1:1. Highest single win: X36.
"HTML5" technology and "full screen" are displayed below the Fair Roulette Privee's interface. Desktop versus mobile versions, respectively: game history along the left versus along right margins; "i" substituting a hamburger menu; and adjustable sounds.
Mobile players use a slider to select automated games, while desktop players click the "autoplay" icon, accordingly: off, 5, 10, 25, 50, 100, 250, 500 and 1000 rounds. Desktop version's autoplay stops after a preset win or balance limit.
However, the desktop players advantage over their mobile counterparts include: the 3D and HD graphics; the in "+" icon's extra panels that shows the total extractions of cold and hot numbers and the player's added user bets beside the system's standard bets—bet on final 7, final 8, and final 9 bets for X3 the chip; red splits, final 0, final 1, final 2, final 3, final 4, final 5, final 6 bets at X4 the chip; black splits and third section of wheel bet at X6 the chip; full orphans for X8 the chip; and snake bet for X12 the chip.
Fair Roulette Privee's animated graphics: wheel and ball's clockwise and anticlockwise spins and rotations. There are: lounge background music; and sound effects like rattle, chink, and English and French-speaking dealers.
Luck in Fair Roulette Privee
Fair Roulette Privee, a game of luck, has a 97.30% RTP rate. House edge: 2.70%.
PlayRoulette.org » Games »
#1 Roulette Casino for Americans

4 Roulette games, Table Mania Tuesdays!