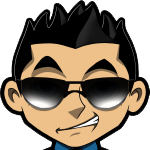 What is Auto Roulette
Auto Roulette is a version of Roulette that is loaded with features and can be found at Paddy Power Casino (Not available to Americans, but check out Roulette 5 at WinADay Casino instead.). Auto Roulette is not only loaded with features it also has virtually all available bets from American to French which is a nice option for a roulette game.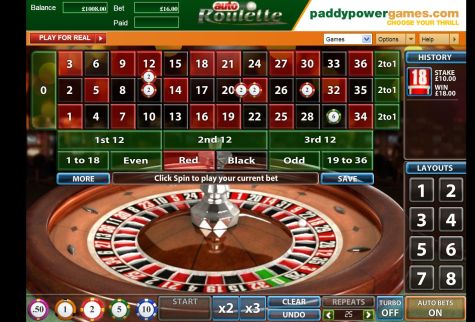 This version of roulette allows you to save up to 8 different betting patterns and have the game play one of your patterns should a certain outcome happen. So after you have saved up to 8 different patterns you can then select what will happen after the first spin depending on the outcome of the previous spin. Sound confusing? Believe me it isn't and I'll explain it in more detail later.
#1 Roulette Casino for Americans

4 Roulette games, Table Mania Tuesdays!
This game has nice graphics and music playing in the background although the music can become annoying after a couple minutes but you can turn it off once that happens.
As with many of the games at Paddy Power, Auto Roulette also uses Playtech software. By using Playtech you know that this game will run fast and smooth which is important with any game of Roulette.
Where to Play Auto Roulette
Paddy Power Casino (Not available to Americans, but check out Roulette 5 at WinADay Casino instead.) is where to go to play this feature rich game. It is located under their "Games" section which you will see along the top of the screen at the main page of Paddy Power. Paddy Power offers player both a browser based flash Casino that will work in any internet browser as well as a downloadable version of their casino
Paddy Power is only available to players in the UK and Europe so only players from those places will be able to play this game.
After downloading their free Casino software you will need to register and account to play their games. After completing the quick and easy registration you are that much closer to playing Auto Roulette but first have a look through the many sign up bonuses available which is basically free money and that's the best kind of money out there.
Auto Roulette Features
This is what makes Auto Roulette special. If you like to have lots of features available for you while playing Roulette then this is the game for you.
Auto Spin

-Have the game automatically run through games for you. Any amount of games from 2 games up to 25 can be chosen. to use the Auto Play feature the option is titled "Repeats"

Mouse Hover Payout

– By having the cursor hover over any available betting option the possible payout will be listed below the screen

Turbo Mode

– Gets rid of the ball animations allowing for more games to be played in less time

Double Bet

– Doubles your current wager. Continue to double as long as your balance will support it

Triple Bet

– Triples your current bet. Continue to press triple will continue to tripe your wager until your account balance is empty

French Bets

– Traditional French bets of Roulette

Finale Bets

– the Finale Bets of Roulette

Special Bets

– Great list of special bets here with a 007 theme; Black Snake, Golden Eye, Bond 23, Golden Gun, Diamonds Are Forever, Octopussy are just some of the great specials that you can place and even save into your layout list

Saved Bets

– Save up to 8 different betting patterns that can be accessed quickly by simply clicking on the number 1-8

Auto Bet

– After you have saved 8 different patterns you can have the game react differently depending on what happened

Stats

– a breakdown of previous spins showing the tendencies of the ball

History Chart

-conveniently located to the right of the wheel which helps to keep you up to date
How to play Auto Roulette
If you know how to play Roulette then you will be fine playing this game. Place your bet / bets and hit spin when ready. To speed up the game use Turbo mode, to play X amount of games in a row then select the number of games and press repeats.
The really cool thing about this game, and where it gets its name from, is the auto bet feature.
You can save up to 8 different betting patterns and also predetermine what will happen next. So for each pattern you will also need to select what happens. For example what happens after pattern #1 wins? Or what happens if pattern #1 losses?
Well you can have the game jump to pattern #6 after a win or pattern 3 after a loss. You can select an outcome for each of the 8 patterns.
Once Auto bet begins it starts at layout 1 and depending on how you have it set up, you could just sit back and watch as the game runs through your betting patterns while you sip on your beer and watch your account balance continue to grow
Auto Roulette Review
If you like the sounds of this game and Live in Europe or the UK then be sure to head to Paddy Power Casino (Not available to Americans, but check out Roulette 5 at WinADay Casino instead.) and give it a try.
I think it's a fun version of Roulette with lots of betting options and features that will keep even the most restless of players interested.
But I can't say enough about the Auto Bet feature of this game. After I had set it up I sat back and watched for a half of an hour straight while my patterns did what they were told and in the process I racked up a nice amount of winnings.
Although there may be to many bells and whistles for some players, I do think its worth a try if only for the Auto Bet.
Oops…
I wrote about this bloody game twice. Here's my second detailed one:
The Paddy Power online Auto roulette is one of the most fully featured roulette game you will ever play online. This particular roulette game consists of a traditional European style roulette wheel with an automated control panel allowing complex or simple programming of multiple games which are played in rapid succession. It is possible to place your bets as you would traditionally on any other table, however you can also use the auto functionality. The auto functionality allows you to make your bets and then select the amount of times you want to spin the wheel with these bets placed. The wheel will keep spinning until it has spun the amount of times you selected or if a condition is met. This is what separates this roulette game from any others. The auto functionality saves the player time and minimizes the chances of making mistakes with the bets as you are simply repeating the same bet over and over again. You will no longer forget to cover a specific number. While the auto functionality is in use any winnings will be credited to your balance immediately after the spin.
This particular variant of the standard European roulette is unique due to it's incredible control panel with many features available. In the control panel you have the auto functionality which is only available in this version of the game. Along with this you have other features allowing you to place special bets such as Bond 23 which is every possible bet on the number 23 or Black Snake which is a snake shape of bets which goes through the black numbers on the table. Although special bets are available on some other tables, auto roulette on Paddy Power offers a much wider variety of special bets available. Nonetheless the auto functionality is the main aspect setting it aside from the other versions of the game.
Auto Roulette can be enjoyed by anyone over the age of 18 and is simple to play. It can be played the same way you would play European roulette in a casino or you can take advantage of the auto functionality. The table is set up in a way which allows you to place inside bets and outside bets. Inside bets include betting on single numbers ranging from 0 to 36 and the payout is 35/1 or you can do splits and quarter bets. Splits cover 2 numbers an the payout is 17/1 and quarters cover 4 numbers with a payout of 8/1. Along with these inside bets there are a variety of outside bets. Betting on black or red is considered as an outside bet and pays out with the odds of 1/1 along with odd and even which has the same payout. You can also bet on numbers 1-18 or 19-30 which pays out 1/1. The number 0 is excluded from these bets so if it lands on 0 you have lost your stake. There are outside bets which pay out with odds of 2/1 which include betting on the rows of numbers or sections. After placing your bets you just need to press the spin button and the wheel will spin. The spin speed can actually be boosted if you choose the turbo spin option which will just give you a random number so you don't actually need to watch the wheel spinning. If one of the numbers you have covered comes out then you are a winner and the winnings will be credited straight to your account.
If you follow patterns while playing roulette then you will enjoy the statistics feature which allows you to check the results from previous spins. With Auto roulette you can check out a huge array of statistics which is valuable to the majority of players. Make sure you take a look at the statistics to help influence your bets. It is also worth taking a look at all the special bets Auto roulette has to offer. Firstly it is possible to place neighbour bets which means you can cover numbers placed next to each other on the actual wheel much easier. Along with this there are other crazy bets available to the player. Here is a summary of the bets you can choose from:
Black Snake: A snake shape of bets placed throughout all of the black numbers.
Bond 23: Every possible bet on the number 23.
Diamonds are forever: A diamond shaped bet on the table which covers many numbers.
First love: This bet is shaped like a love heart covering various numbers.
Ghost of a chance: Pac man and ghost shaped bet on the table.
Golden eye: Bets are placed to symbolize the shape of an eye.
King of snake: This created a triple pyramid snake shape on the board out of bets placed.
Octopussy: This will place bets creating an outline of an octopus.
Red Snake: This covers all of the red numbers in a snake shape on the board.
If you are looking for a new version of roulette which has a fantastic control panel with many features and special bets then you should really consider signing up to Paddy Power and check out Auto Roulette.
PlayRoulette.org » Games »
#1 Roulette Casino for Americans

4 Roulette games, Table Mania Tuesdays!