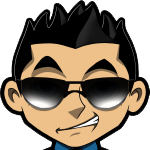 Developed by Section8 Studio, American Roulette is among the four roulette games in the developer's portfolio; the others are European Roulette, European Roulette Low Stakes, and French Roulette.
American Roulette Game Characteristics
When the American Roulette game loads, set the—or use the default—bet limits and table color in the "settings/pay table" pop-up window then click "save" to proceed to the roulette table, which is set on a floral midnight blue background. Its roulette wheel is to the left of the slanting roulette wheel, which is green by default. The American-style roulette racetrack is squeezed along the top.
A prompter cues the players to place their bets by choosing from the four American Roulette's casino chips, at bottom center— blue-and-white $1.00, red-and-white $5.00, green-and-white $25.00, and black-and-white $100.00 chips.
The American Roulette bet options: straight up, split bet, street bet, trio bet, corner bet, top line bet, line bet, dozen bet, column bet, red/black bet, even/odd bet, low/high bet, and cold/hot number bet. The green-and-yellow "< >" icons atop the roulette table lets the players place their 0, 1, 2, 3, 4, or 5 neighbors bets.
Each bet requires $1.00 minimum and $250.00 maximum bets. However, the American Roulette's table limit can be preset to allow: $1.00 minimum and $300.00 maximum bets; or $1.00 minimum and $1000.00 maximum bets; or $5.00 minimum and $2000.00 maximum bets.
The "spin" or "autoplay" icons rotate the roulette ball whose outcome is showed in four sections, along the interface's left margin: in a screen grab beside the win dialog box; as odd/low, odd/high, even/low, or even/high; and as cold and hot numbers at top right. A golden marker also shows the corresponding values on the roulette table.
These are the American Roulette payouts: straight up pays 35 to 1; split bet pays 17 to 1; street bet, or trio bet pays 11 to 1; corner bet pays 8 to 1; top line bet pays 6 to 1; line bet pays 5 to 1; dozen bet, or column bet pays 1 to 1; and the red/black bet, or even/odd bet, or low/high bet pay 1 to 1. Theoretically, American Roulette's maximum payout (35X2000) is $70000.00.
The HTML5-based American Roulette software displays the table cover and total bet at bottom left. It is suitable for desktops as the landscape mode-only mobile version does not display some features, including the user guide and bank roll at bottom left.
The "settings" cog at top right reveals the customizable features: table limits, table color, on/off background music, on/off turbo mode, and—in some versions—"male" or "female" voice. The player has a choice of four roulette table and button color choices: "blue" table, "green" table, "black" table, or "red" table. Situated beside the bet-related "clear" and "clear all" icons; the auto play options are 10, 25, 50 and 75 rounds.
Ambient background music: lounge music. Sound effects: chinking, rattling, and dealer's voice. Animated 3D graphics: constantly spinning roulette wheel; rotating and rocking roulette ball; and shifting marker.
Luck in American Roulette
A game of chance, American Roulette's RTP rate is 94.74% and its house edge is 5.26%.
PlayRoulette.org » Games »
#1 Roulette Casino for Americans

4 Roulette games, Table Mania Tuesdays!